Yokohama Rubber Pneumatic Fenders 1m x 2m
1, Pneumatic Fender is a leading anti-collision device for marine applications in the world today.
2,This fender is made of synthetic-cord-reinforced rubber sheets with compressed air inside to enable it to float on the water and work as a protective medium. Therefore, pneumatic Rubber Fenders serves as a critical protective medium against collision when ship-to ship(STS)transfer operations and ship-to-dock(STD)berthing and mooring operations.
3,Pneumatic fenders have the advantages of massive energy absorption with low unit surface pressure act upon the ship.
4, Itis an ideal ship protection medium used extensively by large tankers, LPG vessels, ocean platforms, bulk carriers and floating structures, large docks, harbor and wharfs.

Advantages of Yokohama Fender:
* Absorb more energy,less reverse impact on the ships
* More flexible ,easy installation
* Long term service life
* Not being bent out of shape under pressure
* Good air tightness,safety and reliability
* High shock absorption,low counterforce and enhance port ability
* Produce according to ISO17357:2002 completely
* Many different sizes and shape available
* Pass CCS,DNV,ABS
* Durable, practical and economical
* Good quality have been checked by many buyers
* Optional tire and chain,can provide chain with hot galvanizing or stainless steel(304,312,316)
* Optional end fittings for the better suitable of applications.
Specification:
Diameter(m)

Length(m)

Internal pressure

(Kpa)

Energy Absorption(KNM)

Reaction Force(KN)

0.5

1.0

50

6

64

0.7

1.5

50

17

137

1.0

1.5

50

32

182

1.0

2.0

50

45

257

1.2

2.0

50

63

297

1.35

2.5

50

102

427

1.5

3.0

50

191

579

1.7

3.0

50

102

639

2.0

3.5

50

308

875

2.5

4.0

50

663

1381

2.5

5.5

50

943

2019

3.3

4.5

50

1175

1884

3.3

6.5

50

1814

3015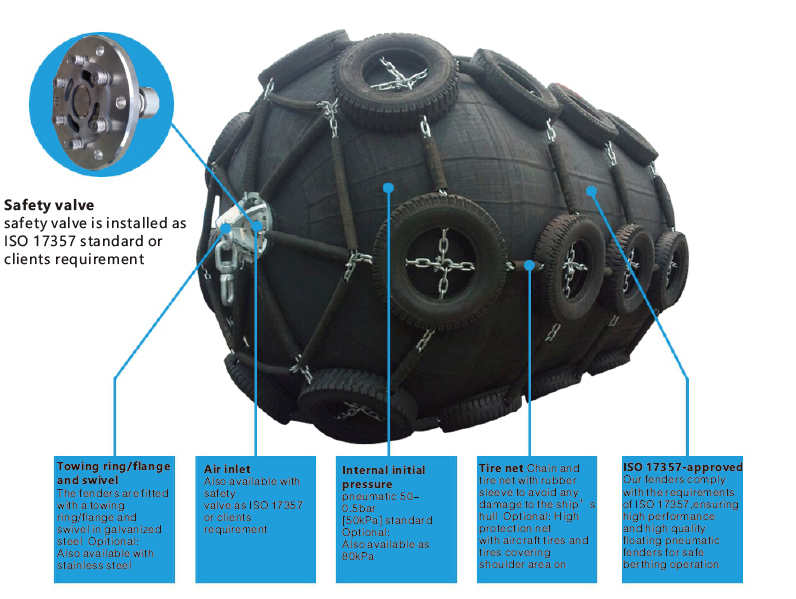 1 safe for excess load marine
The reaction force of a floating pneumatic fender does not increase sharply even under excess load . therefore , these fenders perform extremely well under such condation and as a result , protect ships and mooring facilities .
2 No deterration or variation in performance
utilise the compressive elasticity of air , unchanged at extremely low temperatures .
3 safety realiability
using several layers of strong tyre cord are therefore extremely resistant to pressure and cutting , and are therefore extremely resistant to pressure and cutting .
4. construction
The fender body is constructed of an inner rubber layer , reinforcing cord layers and an outer rubber layer . All three layers are bonded together by a combination of heat and pressure over a period of time in a vulcanising oven .
5. Simple and low cost installation
the fender can be morred simply by means of a guy rope or chain at minimal cost it can be removed easily to another quay or jetty when not use or transfeered to alternative mooring points as required
6. chain and tyre net
the purpose of the chain and tyre net is to protec the fender body from damage by sharp objets
Looking for ideal Rubber Pneumatic Fender Manufacturer & supplier ? We have a wide selection at great prices to help you get creative. All the
Pneumatic Rubber Fender
Hs Code are quality guaranteed. We are China Origin Factory of Pneumatic
Rubber Fender
Price. If you have any question, please feel free to contact us.